FLIX: The Guilty
Friday September 13, 2019
7:30 pm
All Ages
$6.00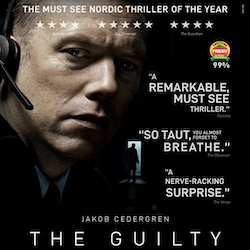 ---
Directed by: Gustav Möller, 2018, Denmark, 1 hour 25 minutes, R.
Asgar, a police officer assigned emergency dispatch duty while awaiting a disciplinary hearing, enters a race against time when he answers an emergency call from a kidnapped woman, who does not explicitly state that she has an emergency and acts as if she is talking to a child. He guesses the distressed woman is not alone and asks her 'yes' and 'no' questions so she can discreetly reveal that she has been abducted. After tracing the call by the nearest cellphone tower, Asger contacts a regional station to initiate a search. The Guilty is an excellent thriller with a well structured plot. This film has a 98% approval rating on Rotten Tomatoes' website. It was the Danish submission for the 2019 Oscar nomination for Best Foreign Language Film.
In Danish, with English subtitles.
Comments
comments