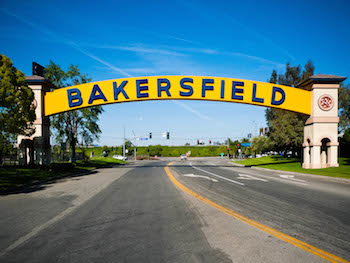 The Southern Gateway to the Central Valley, Bakersfield is the 9th largest city in California and one of the fastest growing regions in the nation. Steeped in music history, the city is the birthplace of the country music genre known worldwide as the Bakersfield Sound. Bakersfield is the seat of Kern County, which generates 76 percent of the state's oil supply and ranks third among all counties in the United States in agriculture-related production. From award-winning museum exhibits to a variety of regional attractions, Bakersfield has something to do for everyone!
Bakersfield also boasts an impressive collection of locally-owned, authentic restaurants including more Basque eateries than any other city in the nation. A short drive from the city puts visitors in the Southern Sierra Nevada Mountains where one can experience top-rated whitewater rafting, fly-fishing and hiking.
Just when you thought you've seen all of Bakersfield, there's still….More to Explore!
Bakersfield Convention & Visitors Bureau
Kern County Board of Trade, Tourism Bureau & Film Commission
________________________________
Bowling
AMF Southwest Lanes
AMF Westchester Lanes
Firehouse Rosedale Station
Firehouse White Lane
Regency Lanes Bowling
________________________________
Casinos
Eagle Mountain Casino
Golden West Casino
Tachi Palace Casino
________________________________
Entertainment
Camelot Park
Kern County Fairgrounds
McMurtrey Aquatic Center
San Joaquin Community Hospital Ice Center
Rankin Ranch
Souza Family Vineyard
________________________________
Escape Room
Bakersfield Escape Room
Real Escape Bakersfield
Room Of No Return
________________________________
Farms / Farmers Markets
Brimhall Farmers Market
Kaiser Permanente Farmers Market
Kern Farmers Market at Golden State Mall
Murray Family Farm
________________________________
Golf Courses
Buena Vista Golf Course
Kern River Golf Course
Links at River Lakes Ranch
North Kern Golf Course
________________________________
Historical Landmarks
Dewars Ice Cream and Soda Fountain
Fox Theater
Kress Building
The Former First Baptist Church
The Bakersfield Californian Building
Jastro Building – Standard Oil Company
Tevis Block / Kern County Land Company
Spencer House
Guild House
Noriaga House
Baker Street Library
Nile Theater (Formerly Bakersfield Opera House)
Noriega Hotel
Earl Warren's Home
Curran House
Southern Pacific Station
________________________________
Laser Tag
Battlefield Live Bakersfield
Respawn Laser Tag
________________________________
Movie Theaters
Bakersfield Movies 6 Movie Theater
Edwards Bakersfield 14 Movie Theater
Maya Cinemas
Reading Valley Plaza 16 Movie Theater
________________________________
Museums
Arvin Federal Government Camp (Weedpatch Camp)
Bakersfield Museum Of Art
Buck Owens' Crystal Palace
Buena Vista Museum Of Natural History
Kern Pioneer Village (Kern County Museum)
Minter Field Air Museum
William M Thomas Planetarium at Bakersfield College
________________________________
Outdoor Recreation
Alta Sierra at Shirely Meadows
Colonel Allensworth State Park
Fort Tejon State Park
Kern National Wildlife Refuge
Kern River Outfitters
Kern River Preserve
Kern River Tours
Lake Isabella
Lake Ming
Mountain and River Adventures
Pacific Crest Hiking Trail
Rivers End Rafting
Sequoia National Forest
Ski West Village
Skydive Taft
Tehachapi Loop
Tule Elk State Natural Preserve
Wind Wolves Preserve
________________________________
Parks
Hart Memorial Park
The Park at Riverwalk
________________________________
Racetracks
Auto Club Famoso Raceway
Bakersfield Speedway
Buttonwillow Raceway
Kern County Raceway Park
________________________________
Roadside Attractions
________________________________
Zoos