Arvin Federal Government Camp (Weedpatch Camp)
8701 Sunset Blvd.
Bakersfield CA

United States
–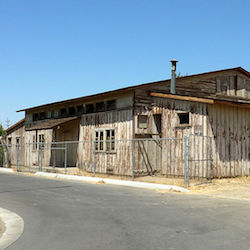 ---
Venue Information
Weedpatch Camp (also known as the Arvin Federal Government Camp and the Sunset Labor Camp) was built by the Farm Security Administration (FSA) south of Bakersfield, California in 1936 to house migrant workers during the Great Depression. Several historic buildings at the camp were placed on the National Register of Historic Places (NRHP) on January 22, 1996.
Weedpatch Camp has its origins in the migrations during the drought that caused the Dust Bowl in the mid-1930s. Oklahoma was especially hard hit by the drought and many of the farmers there left. They migrated to California where they moved from farm to farm looking for work as farm laborers. They were joined by other migrant workers from Texas, Arkansas and Missouri. Housing for the migrants consisted of either squatter camps (tents pitched by the side of a road) or camps established by the farmers and growers. Because of the lack of hygiene and security that these types of camps offered, the FSA built labor camps consisting of permanent buildings with running water, schools, libraries. The FSA also provided help locating work. The first administrator of Weedpatch Camp was Tom Collins.
Between April 1935 and December 1936, the federal government's New Deal Resettlement Administration (RA) had relocated many struggling rural and urban families to planned communities. Weedpatch Camp, however, was constructed by the Works Progress Administration under the auspices of the FSA. It was located on the outskirts of the small towns of Arvin and Weedpatch. The camp now is located in an unincorporated area of Kern County just south of Bakersfield.
---
Upcoming Events at Arvin Federal Government Camp (Weedpatch Camp)
No events in this location
Comments
comments