Temblor Brewing Company
3200 Buck Owens Blvd
Bakersfield CA
93308
United States
661-489-4855
temblorbrewing.com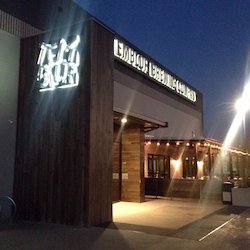 ---
Venue Information
Temblor Brewing Company is a 14,000 square foot state of the art brewery, kitchen and Event and Concert Venue! Our local ownership group consists of passionate beer lovers who have gathered together to bring a high quality destination brewery experience to Bakersfield, California.
Temblor Brewing Company opened to the public September 7th, 2015 with a 600 gallon brewery producing our eight flagship beers; a pub featuring a delicious (and locally sourced where possible) menu; and a music and event space that elevates your expectations of your entertainment venues.
Temblor's interior reflects the hip sensibilities of forward thinking design and use while also paying tribute to Bakersfield's storied past. Founders Bricks from the original brewery in Kern County, circa 1912, have been salvaged and reclaimed into an installation on our east wall, where we pay tribute to our premier membership group, the Brick Founder Club.
---
Upcoming Events at Temblor Brewing Company
Comments
comments