Border Brothers
Thursday April 20, 2017
7:00 pm
All ages
$10.00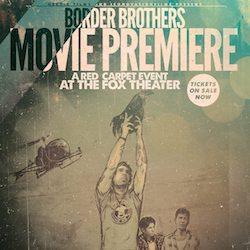 ---
Tickets are available at the Fox Theater Box Office or you can purchase online at Ticketleap.com.
Hectic Films is proud to announce their latest action-comedy feature film, "Border Brothers", will premiere on Thursday, April 20th at the Bakersfield Fox Theater. There will be a red-carpet walkthrough at 6:00 pm and the film will begin at 7:00 pm. Along with a Q and A after the film.
"Border Brothers" follows Brian, a desperate, near unemployed man, two illegal immigrants he begrudgingly befriends, and their hilarious, harrowing adventure through the southwestern desert as they attempt to smuggle marijuana across the border and escape with their lives. Described as "The Hangover" meets "Pineapple Express", this film features exhilarating shoot-outs, police chases, and even an exploding helicopter, while simultaneously exploring current controversial subjects such as immigration, drug use, and cultural differences. The film stars Brian Ross as Brian, Luis Fernandez-Gil (Lucha Underground, Jack and Jill) as Juan and Orlando Chavez (Southland) as Lupe and DT Carney (Devil Inside, John Dies in the End) as Uncle Franky. Directed by Rickey Bird (The Lackey, Naked Zombie Girl).308
Created by the same team as the award winning, "Naked Zombie Girl" and "The Lackey", this premiere is an event that should not be missed.
Comments
comments