FLICS: Theeb
Friday February 24, 2017
7:30 pm
All ages
$6.00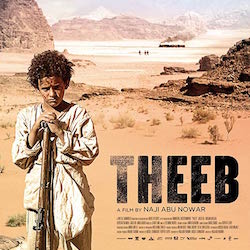 ---
All films start at 7:30 p.m. at the Fox Theater, 2001 H St. All screen on Friday nights. Admission for any single film is $6; season pass for all 15 is $50. For more information, visit flics.org or call 428-0354.
Theeb
2014,Estonia, 87 min, R, Estonian and Russian with English subtitles
In the Ottoman province of Hijaz during World War I, a young Bedouin boy, Theeb, experiences a greatly hastened coming-of-age as he embarks on a perilous desert journey to guide a British officer to his secret destination. Our young protagonist uses his nascent survival skills to outwit potential enemies in Theeb, a classic adventure film of the best kind, and one that's rarely seen these days. The movie is set in a period known as the Arab Revolt, when Arab nationalists sought independence from the Ottoman Turks. The story begins in a traditional Bedouin desert community, where a British Army officer and his Arab comrade appear out of nowhere, seeking a well near the Ottoman train tracks. Theeb is set at the moment when the Bedouin lifestyle was on the cusp of radical change. Nominated for the 2016 foreign-language Oscar.
FLICS 2016-2017 season
Sept. 16: "Love & Friendship"
Sept. 23: "Truman"
Oct. 21: "The Dark Horse" (500th FLICS film)
Nov. 4: "The Bride/La Novia"
Nov. 11: "Coming Home"
Dec. 2: "Women He's Undressed"
Jan. 13: "Song of Lahore"
Feb. 10: "The Fits"
Feb. 24: "Theeb"
March 10: "Dheepan"
March 24: "Marguerite"
April 7: "Phoenix"
April 21: "Meru"
Comments
comments