FLIX: Burning
Friday October 18, 2019
7:30 pm
All Ages
$6.00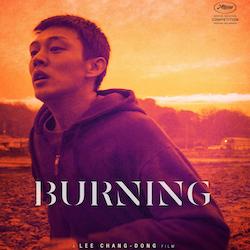 ---
Directed by: Chang-dong Lee, 2018, South Korea, 2 hours 28 minutes, Not Rated (Consider this to be an R rated film).
Burning is the story of a romantic triangle of two men (Jong-su, with modest means and aspirations, and the Gatsby-esque Ben, who is flashy and smug) and a young woman, Hae-mi, an elusively alluring figure. The director, Lee, wants us to grasp that Hae-mi is a woman threatened by the desires and demands of two men who don't see her for who she actually is. Filled with free-floating spirit, she becomes the fulcrum for Jong-su and Ben to reveal a masculinity that is as toxic as she is life-affirming. Burning has a 94% approval rating on Rotten Tomatoes' website. It was South Korea's official submission for the 2019 for Best Foreign Language Oscar.
In Korean, with English subtitles.
Comments
comments