Haggard Boxcar Music Festival
Saturday May 09, 2020
4:00 pm - 10:00 pm
All Ages
$30.00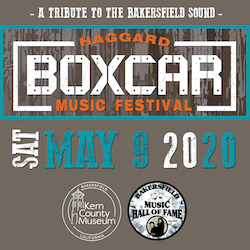 ---
Saturday, May 9th, the Kern County Museum will be presenting the 4th Annual Haggard Boxcar Festival along with the Bakersfield Music Hall of Fame. The Festival serves as a fundraiser for the non-profit, Kern County Museum Foundation. The origin of the festival's name comes from the childhood home of Merle Haggard, a boxcar, and of course, honors Merle Haggard and all his contributions to the Bakersfield Sound and country music! The history of the boxcar starts in 1935 when the Haggard Family moved to Bakersfield from Oklahoma and purchased the boxcar to live in. It was relocated to the Kern County Museum in July of 2015. We continue to honor him by showcasing talented country singers from across the country.
The Festival features Sam Williams, (grandson of County Music Legend, Hank Williams and son of Hank Jr.) with a special line-up to include; Norm Hamlet (legendary steel guitar player and longtime band member of Merle's), with Mario Carboni, Grammy, CMA, & ACM nominee singer/songwriter Bobby Tomberlin, former Dwight Yoakam lead guitarist turned soloist Brian Whelan, Nashville rising-star and Bakersfield's own Ashley Taylor, along with other local favorites like Noah Claunch, Truxtun Mile, & The Appletons just to name a few!
Saturday, May 9th, 2020. Gates open at 4pm with continuous music until 10pm. Tickets are $30 online or $35 at the door. For more information about the event or to purchase tickets visit https://kerncountymuseum.org/haggard-boxcar-music-festival/ or visit the Kern County Museum or call us at 661-437-3330.
Comments
comments