La Caravana Del Amor
Friday February 07, 2020
7:00 pm
All Ages
$40.00 - $120.00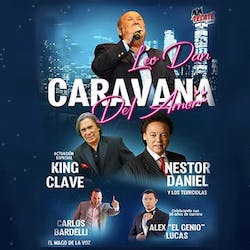 ---
Tickets available at the Fox Theater Box Office, Charge by phone 661-324-1369 and BakersfieldFox.com
Leo Dan
Argentinean composer and singer, born in 1945 in Santiago del Estero.
King Clave
Jorge Ayala better known as King Clave, is an Argentine singer and songwriter whose hits were known in the 70's and 80's.
Nestor Daniel y Los Terricolas
En el año 1968 Johnny Hoyer, el mayor de los hermanos Hoyer, decide fundar un grupo musical integrado por los miembros de la familia. Inicialmente se llamó "Mini Combo Montrealo". La popularidad se extendió paulatinamente con cada presentación en vivo en cada fiesta y baile que amenizaban. Algunos meses después Los Terrícolas grabaron un demo con cuatro canciones y viajaron a Caracas para presentarlo a sellos discográficos capitalinos, tras algunas negativas el grupo fue firmado finalmente por César Roldan, dueño de "Discomoda", sello disquero con el que graban su primer sencillo Vivirás.
Los únicos que se mantienen deleitando a su publico hoy en dia NESTOR DANIEL HOYER Y BEATRIZ HOYER LAS VOCES ORIGINALES DE TODOS LOS ÉXITOS..
Carlos Bardelli
Ganador de Parodiando , reconocido por el presidente Barak Obama como el hombre que imita más voces en el mundo
Alex "El Genio" Lucas
El Show de Alex "El Genio" Lucas está compuesto de dos segmentos: música y optimismo.
El programa completo incluye chistes, bromas y llamadas de felicitación humorísticas.
Cuenta con la participación de Raúl López "Don Pitoloco", Deportes con David Faitelson y Antonio Rosique, Noticias con Mercedes Soler, Andy Váldez, Katrina, Mario Flores "El Perico", Gaston Mascareñas, Rosmar y El Pecas y sus ya famosas reflexiones.
Comments
comments