Safe Halloween
Thursday October 31, 2019
5:00 pm - 9:00 pm
All Ages
$5.00 - $10.00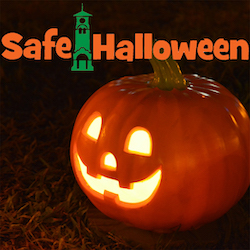 ---
Safe Halloween is back at the Kern County Museum on Wednesday, October 30 and Thursday, October 31, 2018 from 5:00pm – 9:00pm. The trick-or-treating event, started in the 1980s, has become been a community favorite and major fundraiser for the Kern County Museum Foundation. Children 12 and under can trick-or-treat 50 local businesses and organizations at the elaborately decorated historic exhibits around Pioneer Village.
Tickets are $10 for children 4 – 13 years old, $5 for adults 14 and older, and free for children ages 4 years old and under. Tickets are on sale at eventbrite.com and at the Kern County Museum front desk. Tickets will also be available at the door, but attendees are encouraged to purchase ahead of time to avoid lines.
In addition to trick-or-treating there will be food vendors, entertainment, and costume contests.
This is always our favorite community event. Every October our historic buildings are all haunted for one night with little witches, goblins and ghosts. It makes trick or treating easy!
For more information, please visit www.kerncountymuseum.org or call (661) 437-3330.
Comments
comments