Guitar Masters: Rodney Crowell
Thursday May 25, 2017
7:30 pm
All ages
$35.00 - $50.00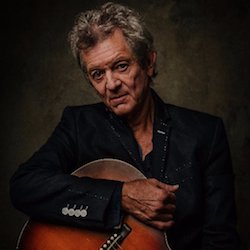 ---
Tickets available at GuitarMasters.org
Rodney Crowell's work and career sets a benchmark for commercial success and lifelong artistic ambition and integrity in country music. His compositions, including "Til I Gain Control Again," "I Ain't Livin' Long Like This," "Song For The Life" and "Ashes By Now" have been widely and successfully covered by legendary singers. He's had songs as an artist or writer in the top ten in every decade since the 1970s, including latter-day landmarks "Please Remember Me" and "Making Memories of Us."
A multi-Grammy Award winner, member of the Nashville Songwriters Hall of Fame, and the recipient of the Lifetime Achievement Award for Songwriting from the Americana Music Association, Rodney Crowell is deserving of every measure of praise he's been given.
And, he's a true Texas gentleman.
If you haven't been to the totally re-imagined Studio A at the new Bakersfield Music Hall of Fame, this would be a great time to check out the incredible acoustics…and really comfortable seats.
Comments
comments